Nexus Spring 2020 Feature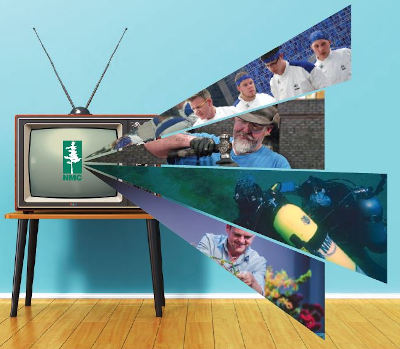 We all hope the polar vortex spares northern Michigan in 2020. but here at the 45th parallel, a few blizzards are just about guaranteed. so fire up your streaming services and hunker down with shows featuring these NMC alumni, students and faculty. (All four featured shows are available on Amazon Prime Video; all except 'The Arrangement' are also on Hulu.)
---
JASON CRUM
CURRENT NMC STUDENT
Show: Forged In Fire, the History Channel, summer 2019
Where he is now: Working at WKLT radio and taking classes online to fit his schedule as a dad.
Why he did it: Crum, 49, started watching YouTube videos on blacksmithing and built his first forge out of a brake rotor. He refined his DIY skills over six years and replied to a show casting call. After a two-month selection process, he was on his way to Connecticut for the filming in June 2018.
What he learned: Crum's why-not entry into blacksmithing is reflected in his attitude toward returning to school. He's taking classes online but also volunteers at radio station WNMC and is interested in other student groups like the International Club. "One of my goals was the college experience," he said. "As I was coming up on 50, I was feeling very regretful that I never pursued college. This one's for me."
Find it: history.com (Type "Forged in Fire" into search field. Select Season 6, Episode 28, "Blackbeard's Cutlass." Multiple streaming options.
---
MARK HOLLEY
ANTHROPOLOGY INSTRUCTOR
Show: The Curse of Civil War Gold, the History Channel, spring 2019
Why he did it: Essentially, because he was asked. Filmed in Lake Michigan in summer 2018, the episode is part of a series in which treasure hunters search for a cache of gold rumored to have been smuggled out of the South during the Civil War. While—spoiler alert!—Holley and co. didn't find gold, he said the film crew did make a cool nautical archaeology find: a turn of the century scow in the waters off of Frankfort.
"It'd make a great project for one of our students," said Holley, who teaches online and holds an  annual nautical archaeology field school in West Grand Traverse Bay. He's previously appeared on the National Geographic Channel, Science Channel and Japanese TV.
Fun fact: Holley purchased the side-scan sonar equipment used in the episode with money from the NMC Barbecue.
Find it: history.com (Type "Curse of Civil War Gold" into search field. Navigate to Season 2, Episode 1, "The Return.") Multiple streaming options.
---