Adapting to the challenges of COVID-19 has led NMC's flagship Freshwater Studies program to a triple win: improving student learning, community collaboration and career exploration in a single course.
Introduction to Freshwater Studies is the first course in NMC's first-in-the-nation Freshwater Studies associate degree program. This fall, instructor Constanza Hazelwood reimagined the 20-student course to conform to group size restrictions and distancing requirements necessitated by the coronavirus. She divided it into three tracks that allow students to experience project research, management and communications in areas that align with their interests, from water quality monitoring to habitat restoration to laboratory testing.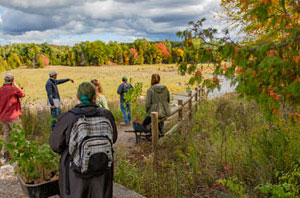 "We didn't want large groups gathering anywhere," said Hazelwood, who has taught the class for the past 11 years on NMC's Great Lakes campus. "That's what got me thinking we must have students outdoors. We cannot teach this on a screen."
Field work and community partnerships have been part of the course in the past, but this time, it's a much deeper dive. Hazelwood tapped nine community organizations, many non-profit. Each student works with three as they go through their tracks.
"This time the students are really engaged in the work of the organizations," said Hazelwood.
Groups like the Grand Traverse Conservation District, where students planted trees to help restore the Boardman River Watershed (photos, courtesy Alan Newton) and the Glen Lake Association in Leelanau County, where students worked on a project to eradicate invasive yellow iris in Big Fisher Lake, part of the Glen Lake/Crystal River watershed.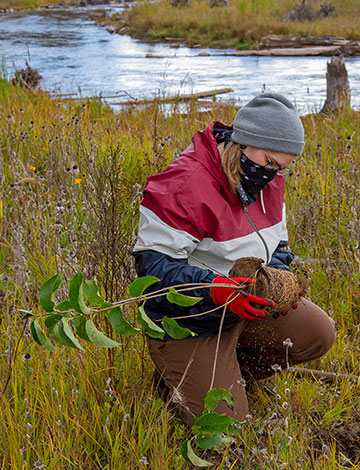 'We're so grateful, not just for the manual labor but the opportunity to work alongside these really incredible students," said GLA's Tricia Denton. "These are the future caretakers of our precious water resources."
Other groups participating include For Love of Water, Circle of Blue, Freshwater Solutions and Fish Pass. (Watch a TV 9 & 10 story on the Fish Pass project.)
"A big component is career exploration," Hazelwood said. "It's very much immersion in the professional world."
"They're working with master's and PhD-level professionals, some of them who have been in the field for over 40 years, which is so different from reading about something online or in a textbook," said Denton, who is also eyeing the group of nine students she worked with for future association interns.
2019 graduate Abbey Hull, now pursuing her bachelor's degree in Freshwater Science and Sustainability from Western Michigan University, a partnership with NMC, returned to mentor current students in a project using state-of-the-art technology to test water for E. coli. 
Traverse City's Freshwater Solutions is the partner for the project using qPCR technology, which extracts DNA from water samples. Also being deployed to monitor for COVID-19, for E. coli, results are available in two hours instead of the 24 hours it would take using the traditional method of sampling and then attempting to grow cultures. 
Drilling down further, qPCR can determine the source of the bacteria — septic tanks, or waterfowl? — which guides appropriate mitigation. 
"This was a great way for students to get hands-on, and meet people in the field and network from there," Hull said.
Hazelwood points out that it's another opportunity for alumni like Hull, too.
"Even after graduating, they're still learning from NMC," she said.