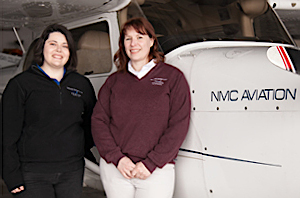 NMC's aviation program will get a lofty showcase before a national audience this summer when a pair of student pilots fly across North America in the Air Race Classic, the oldest air race of its kind, and exclusively for female pilots.
Ninety years after legendary aviator Amelia Earhart made cross-country racing popular, Team Hawk Owls — Hannah Beard of Interlochen (left) and Jessi Martin of Maple City (right) — will take off from Jackson, Tenn. on June 18 in an NMC Cessna. The 2,500 mile trip is a race against the clock broken into nine legs. They expect to land in Welland, Ontario, by June 21.
"It's going to be marathon," Martin, 43, said.
"Sunrise to sunset flying," agreed Beard, 23.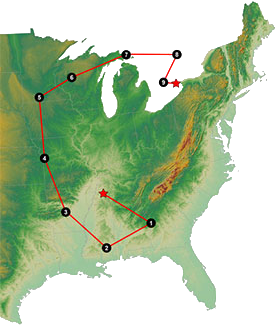 Entering the Air Race Classic is the latest example of how women at NMC are making significant strides in what has long been a male-dominated field. While only four percent of U.S. airline pilots are female, nearly 20 percent of current NMC aviation students are now women. The college is now home to a chapter of Women in Aviation International, which allows them to network and support each other.
Read More