Indonesian Institute Enlists NMC For Coral Reef Study
Marine Tech, Drones, Water Studies Integrated In Mapping Project
Nexus Spring 2019 Cover Feature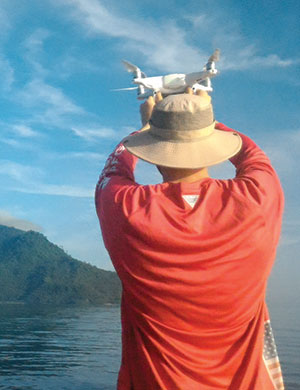 Ryan Mater prepares to launch an NMC drone in Indonesia's Bunaken National ParkHiking through dense tropical jungle on an Indonesian island last May, NMC student Ryan Mater thought longingly of a project he and his marine technology classmates had left unfinished in a college classroom.
It was a hybrid drone, capable of taking off from and landing on water, and then dropping a submersible payload, like a camera. It would have been ideal for the work that had brought Mater and 11 fellow students to Indonesia: Conducting a study on the health of the coral reef system in a national park by integrating their expertise in marine technology, aerial mapping, water quality testing and data collection.
But the classroom was 9,000 miles, 34 hours of travel and three customs inspections away. When they'd chosen their equipment, they'd decided the hybrid was too bulky and too untested to justify shipping. Now Mater and the rest of the NMC team would have to find another way to tackle the task, one they had only a week to complete.
"We had to alter our game plan," said Mater, 20, who led the group's Unmanned Aerial Systems unit.
Read More